It's quality over quantity, when it comes to sleep!
Poor sleeping posture is a huge cause of health problems like neck, back & shoulder pains, headaches, heartburn, excessive snoring, stomach aches, muscle cramping and sleep apnea. Since we spend ⅓ of our lives sleeping, it's needless to say that an ounce of prevention is worth a ton of cure!
That's why we created ProSleepy™, scientifically designed to maintain and improve your spine's natural curve during the night, which helps you have a perfect body posture during the day! Try ProSleepy™ a night and we guarantee you a better day!
Get ProSleepy now!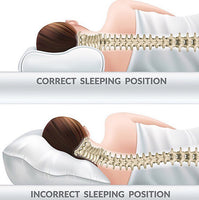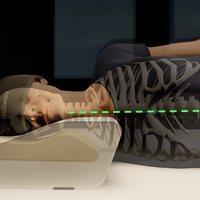 Scientifically designed
Did you know the regular sleeping pillow design did not change for more than 2000 years? We could not believe that so many people suffered from neck pain, bad posture during the day or other sleep-related health problems without even realizing the cause, so we decided to put our effort in revolutionizing the way we sleep. 
With the help of top sleep experts and the latest scientific insights, we designed the pillow of the future, to ensure perfect sleep posture in all sleeping positions. It is precisely designed to correctly maintain your neck in its natural curve, throughout the whole night! 
And the best is yet to come: all these inventions are not only good for you, but also extremely comfortable!
Eliminating neck pain has become as easy as sleeping in great comfort and waking up refreshed every morning!
Try ProSleepy!
What ProSleepy™ Customers say
My husband is a chiropractor and works out a lot. We've been struggling to find him a pillow for years. He absolutely loves the ProSleepy pillow. We recommend ProSleepy to all our patients and friends!

Amelia K.
The pillow is absolutely fantastic! It provides fantastic support for my neck when sleeping on both my back and side. Since my back injury this has very much helped me sleep better, I feel like sleeping on a cloud now!

Mia G.
Crazy to see how this pillow has actually helped me fall asleep more quickly. I used to toss and turn in bed all the time. Also can't remember the last time I woke up with neck or back aches. Great product!

Lucas F.